Goal Setting and A Balanced Life
Often, we can get focussed on one area of our life and before we know it, other areas of life important to us are not being fulfilled. Or perhaps, you want more balance in your life.
Without focus or balance it is easy to begin to feel unfulfilled or trapped.
---
There is nothing wrong with being out of balance for a short period of time. A young family or tight deadline at work can create this short term. It is when that instability becomes constant that you can start to feel like you are missing out on something or on life in general.
With 10 as the most fulfilled and 0 the least, assess your life right now by printing the Wheel below. How balanced is your life is right now. Where would you like to improve it?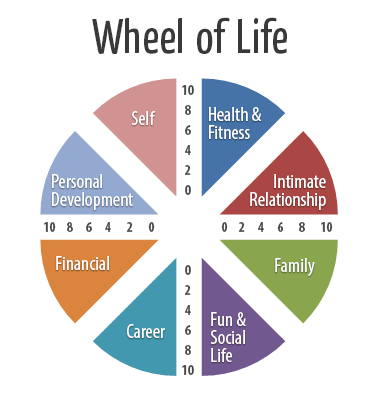 If you have found one or more areas less balanced, then of course the next question is going to be "what are you going to do about it?" Life is on a finite line, and it is important to live with that feeling of true-life fulfilment. I hear some people say "life is just passing me by"- well it doesn't have to.
Mapping life is a bit like mapping a journey. You need to know where you are going and how to get there. Plan when to work hard, what to work on, when to play and when to simply relax.
On Goal Setting
Goals, dreams, and objectives help us find our vitality and purpose. This is where goal setting comes in. Sometimes it is just about planning; sometimes it is getting to the root of our beliefs, our limiting thoughts and even fears so we can believe in ourselves more. Often it is about defining and connecting to our WHY.
You are the creator of the clearest map of your life, together we can generate the GPS and add more detail, dimension, and colour to it for you. I will keep you on track and be a support to you making it happen.